Member Roundtable for Clinical Users: Focus on Operational Integration/Implementation at the System Level
Member Roundtable for Clinical Users: Focus on Operational Integration/Implementation at the System Level
Wednesday, July 14, 2021 (2:00 PM - 3:30 PM) (CDT)
Description
This Member Roundtable, designed specifically for clinical users, will focus on barriers and facilitators to operational integration and implementation of PROMIS at the healthcare system level. Discussion will include the importance of proactively considering how PROs will be used across the layers of healthcare organizations to optimize the design and governance of PROs.
To encourage meaningful engagement and build community, the number of registrants for this Roundtable session will be limited to 30 PHO members.
Hosts:


Elizabeth Austin, MPH, University of Washington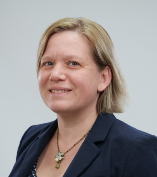 Janel Hanmer, MD, PhD, University of Pittsburgh
Images
Pricing
PHO Members Free
The Roundtable event is limited to PHO members.
Virtual

Wednesday, July 14, 2021 (2:00 PM - 3:30 PM) (CDT)